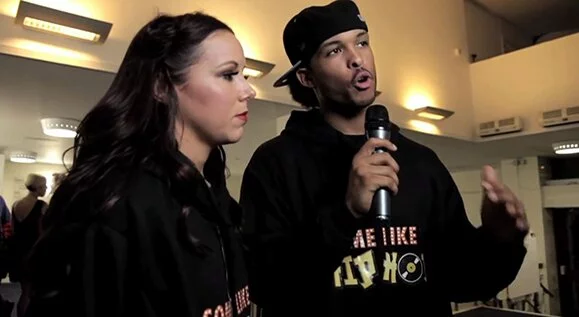 Customer Testimonials, Audience Reactions, or Vox Pops are invaluable nuggets of online communications. There is nothing more persuasive than a talking head, and nothing more trustworthy than a real customer.
A 2012 Nielsen survey found that "92% of consumers trust recommendations from friends and family and 70% trust online reviews, while the vast majority view paid online advertising with deep suspicion". We want to share some tips and tricks from years of producing Vox Pops for our arts clients.
1. Selecting the Right People
You are looking for strong persuasive comments from interviewees, but that in itself is not enough. Your target audience must be able to relate to the speaker. If your objective is to attract younger audiences select your interviewees accordingly.
2. Asking the Right Questions
Before you shoot, think about the responses you want and prepare questions that will elicit them. Avoid asking questions with yes/no answers. For example instead of 'Did you like the set design?' ask 'what was it about the set design that you liked?'
3. Choosing the Right Team
The public are generally unaccustomed to be being interviewed so make sure your team are personable and able to make interviewees feel comfortable in what they may find a stressful situation. Before we start an interview we like to introduce our team and ask the interviewee a few casual questions. Of course we're in a rush, but they don't need to know that.
4. Positioning & Equipment
When filming, position your camera near the buzz of the crowd but not so much that audio will be negatively affected. We prefer to use clip microphones as the background noise is minimal and they are discreet. Roaming microphones are also effective but will affect the look and feel of the video and can take away from the authenticity. If portability and time are more important you might need to go more mobile with a boom microphone. However we've found that this less subtle approach can intimidate interviewees more than clip mics.
5. Incentivising
Offering an incentive to interviewees will greatly increase your hit rate and the length of time people are willing to wait around to be interviewed. This depends on the event and the venue of course. Often a free program or drink is more than enough.
6. Using Supporting Footage
When you come to the edit stage of your video it is always beneficial to have event footage to intersperse with the interviews. This helps your edit if you need to cut out hesitations or stutters, as well as heightening the viewer's interest and understanding of what you're advertising. How much footage you show really depends on the need to reassure audiences or to spark intrigue.
7. Call To Action/Offer
It's critically important to tell viewers what you want them to do after the video. If you can get your interviewees to tell them that's great. We find asking 'if you were to tell a friend to come what would you say?' is great for acquiring this kind of sound bite. Failing that, make sure you include a graphic call to action; share this video, buy tickets, visit the website and so on.
There you have it, our tips and tricks to shooting the perfect vox pop. Here is one of our productions for the Young Vic that blends VoxPops and show footage. 
Get in touch with  to talk about your next Vox Pops shoot.