With most social media platforms extending the length of videos permitted, and/or developing their video advertising capability, it's becoming much easier for advertisers and creators to produce content that can be used across platforms. However the small differences in length, auto-play, advertising metrics, and audiences, mean that we have to continue to distinguish between them, and tailor create content.  Here we give you an overview of some of the key differences between the big platforms.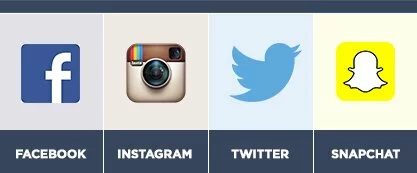 A key feature across most platforms is that they auto play videos (except YouTube).  This means you really need to grab attention in the first few seconds. Especially on Facebook and Instagram, where audio has to be cued manually with a click. The worst mistake here would be to use voiceover in the first few seconds of a video that most people will never hear. Conversely, with Twitter and Snapchat, we can use visual and audio to immediately grab viewers' attention.
Let's look at four platforms – FaceBook, Instagram, Twitter and Snapchat – in more detail.
Video on Facebook
Video publishers have indicated that a huge proportion of views on Facebook are happening without the audio ever being on, up to 85% of their views.
When creating video for Facebook it is advisable that it not only grabs attention without sound, but can be followed to the end without it. This is a new style of video in which arresting visuals are quickly followed by extensive text. And it works! The downside is that releasing the same video content across platforms requires a substantial re-edit, or a complete new film.
In terms of advertising, the tendency towards silent viewing is not affecting user engagement. In fact, although YouTube regularly scores lower costs per view, higher view rates, and high completion rates compared to Facebook, levels of actual engagement are higher on Facebook.
Video on Instagram
In 2016 Facebook-owned Instagram upgraded their video hosting from 15 seconds to 60 seconds; a big shift in the kind of content they are encouraging (advertisers already had this function from January).
Probably this is meant to facilitate the use of the same videos on Instagram and Facebook. Considering Instagram's artistic bent, their long term strategy has been a slow but sure proliferation of ads that don't upset the user experience. For this reason branded content tends to take a more artistic aesthetic.
When they rolled out their new 60-second ad format in January to a few carefully chosen companies, the first client was Warner Brothers with a new film trailer. It seems the focus will stay on visual communication, and the platform will avoid Facebook's text heavy silent video formula. Indeed Instagram said in a statement that their increase in video duration for creative would "give ads a more cinematic feel."
Successful video ads on Instagram do tend to have a more TV/Cinema approach than the info-graphic one on Facebook. Like this Banana Republic ad.
Video on Twitter
Twitter too has pushed big developments in its video capability, upgrading to 140-second video, from its measly 6 second Vine.
Video tweets have increased by over 50% since the beginning of 2016, and it's clear Twitter wants to find parity with the other big platforms, both to users and advertisers. These welcome changes mean that it is easier to re-use video content across networks like Facebook and Twitter. The caveat is that Twitter's auto-play function comes with auto-sound, making it slightly different product than the silent Facebook video.
Twitter is also now offering pre-roll ads that will play before premium publisher video content. This a direct challenge to YouTube pre-roll advertising that could level the playing field.
Video on Snapchat
Snapchat took real time video sharing to the next level with its ten second clips that vanish after one view. The two other big features are Stories and Discover. Stories is an amalgamation of your video clips which reaches your followers all at once. Discover is a stream of branded clips that a user can swipe through. Brands can use both of these functions to communicate with their audiences. Particularly the 13-25 year old audiences that make up Snapchat's core.
Some great ways that brands are using Snapchat include; behind the scenes clips, product sneak peeks, offers, new team member intros. An innovative clothing company called Wet Seal allowed a 16-year-old blogger to run their Snapchat for two days and received 9,000 new followers.
The app is the fastest and easiest video tool available to your organisation, so if part of your market is that early twenties group, you need to pay attention.
Below is an infographic from Marketing Land which details the video features of the platforms we've discussed.